(Continued from Above) ...Chuck Stapel has also been custom crafting knives for the movies and TV for over twenty years. Stapel knives have appeared on the covers of well-known national magazines and newspapers, and are displayed in museums and galleries worldwide.
In addition, Stapel is well known for his unique "trophy knives" which he has donated to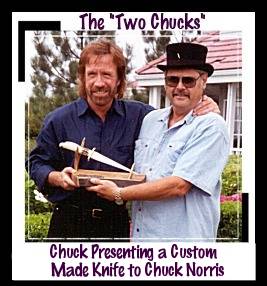 hundreds of charities.
Stapel Knives are not only unparalleled in their beauty and craftsmanship, but are a great investment as well. Many of his knives have broken records for their resale at auctions throughout the world.
Please tour our site and see for yourself why the highly valued, long lasting, practical and usable knives with the "Stapel" trademark etched on the blade are considered by many celebrities and connoisseurs of the craft to be an incomparable treasure.
Stapel Knife Questions?
E-Mail