Knifemaker Chuck Stapel of Los Angeles has been making knives for three decades, so far. He is the second of four generations of knifemakers, counting his father, his son and his grandson. Charles Stapel, Sr., made his first knives as far back as World War 11. Chuck's son, Craig, made his first knife about 1981 and Craig's son follows his grandfather around the shop every chance he gets. He has begun his own knifemaking career, too.

Chuck Stapel continues making knives, swords, eating utensils, corkscrews and art sculptures on a full-time basis. For the past 20 or more years, he has found a market for his works in the nearby motion picture and television industry.
| | |
| --- | --- |
| | Look at the handle detail of the Bowie used in "The Alamo." Three models of the knife were made; only one had a sharpened blade edge. The handle is cast plaster to resemble natural stag and so all three movie knives would look alike. |
"I made my first movie knife in 1983 for a picture called, `No Mercy,"' Stapel said. "I was contacted by a local prop master I knew. He was involved with the movie and asked me to come up with a pattern. We came to an agreement, I made the knife and it was used in the picture."

That first movie knife started things rolling for Stapel. The knifemaker spent much of his earlier working years as a carpenter and locksmith in Southern California. He became acquainted with many of the prop masters and prop houses for the entertainment industry. He dropped off his business card whenever he passed one of the houses. Over the past 20 years, Stapel has made knives for 40 or 50 productions; he says he really has not kept count.

His most recent contributions are for the recent movies, "The Alamo," "Once Upon A Time in Mexico" and "Kill Bill."

Not every knife he has made has had what might be termed a leading part, but the Bowie knife appearing in "The Alamo" may be seen frequently and prominently in the film story.
Longtime custom Knifemaker Chuck Stapel holds his latest movie knife, a Bowie pattern for "The Alamo." (Right) This is Chuck Stapel's version of a Bowie knife used in "The Alamo." The blade was made to look slightly rusty and well used. It is 12 inches long and measures 18 1/2 inches long overall.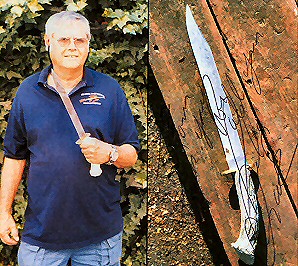 Stapel had to construct several Bowies, all to look alike. The 12-inch blade is made of 01 tool steel and the handle measures about 4 I/2 inches long. The handle is cast from an original stag design of molded plastic, thus each model looks the same as the others. The guard is brass. A leather sheath was also required for filming. Stapel was asked to "age" the blade to look well used and appear not in brand new condition. So, up close, the blade looks stained and dented as if it had been heavily used before the motion picture story takes place. For the filming, Stapel was asked to produce one sharpened blade and two unsharpened knives.
Another popular movie of recent years, still shown on the cable networks, is "City Slickers." Chuck Stapel made the big Bowie-pattern knife handled by actor Jack Palance. That one had an 8 1/2-inch blade, but was visible for only a few seconds in the film.
Other movies or television stories with knives by Chuck Stapel include the TV series, "Magnificent Seven" and "Deadwood," plus movies such as "Tombstone" and "9mm." For "9mm" the 5 3/4-inch blade pattern was made only of aluminum, measuring 10 inches long overall. For "Magnificent Seven," Stapel provided three new steel patterns. For "Tombstone's" Doc Holliday character, the knife chosen was a dagger pattern.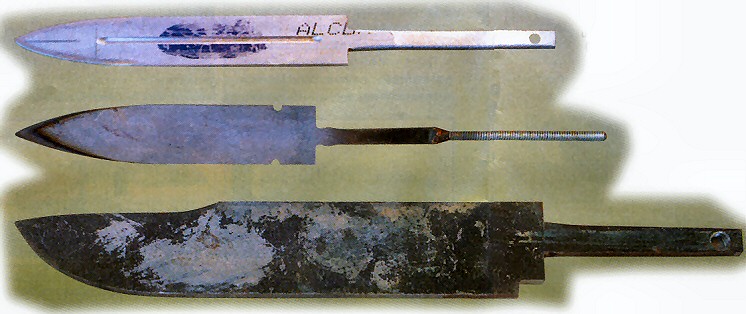 (Top) Knifemaker Chuck Stapel reports that several movies have used this aluminum dagger pattern. (Middle) This dagger pattern blade was for the movie "Tombstone." (Bottom) This blade pattern was contracted by Chuck Stapel and used in the movie "City Slickers" by Jack Palance's character.
One design Stapel has been making for years is his idea of a boot knife, which has a 3-inch blade of AFB-L stainless steel and an ivory Micarta handle. The handsome knife is 6 3/4 inches long overall. Any particular scene may end up on the cutting room floor, but Stapel thinks his boot knife may appear in a "Deadwood" television episode.
| | |
| --- | --- |
| | This boot knife is a Stapel standard design, popular with many customers. It also appears in the TV series "Deadwood." It features a 3-inch AEB-L stainless steel blade and an ivory Micarta handle. Custom versions may have scrimshaw on the handle. |
"As a result of my long association with the industry, I have developed an excellent reputation with the prop houses," Stapel said. "Now many of them come to me first when they are looking for some sort of movie knife. I'm prepared to produce just about anything the prop masters may need, except retractable-blade and rubber knives. I don't make those."
Stapel does not reveal the amount he is paid for making movie knives, but admits his time and efforts are rewarded. However, he has never received what is known as screen credit for any of his work. "I have and still enjoy the filming process," he says. "Sometimes, I am invited onto the sets where the action using my knives takes place. I remember one scene that required six hours to film. But when the television episode was shown, the knife scene lasted only about 15 seconds. Sometimes, you have to look fast to see the results of my work.
"I am pleased that the industry people believe in me and this aspect of my knifemaking. Over the years, it has been a lot of fun and I always enjoy talking about ,movie knives."' Stapel admits that, with so many of his knives in so many stories over the past 20 years, he has lost track of which ones went where and who used them for the stories. From time to time he sees one of his old knives being used for a second or third story. As he says, the job is to produce what the prop master wants. Once the product is delivered, the creator has little influence as to what happens to it.

Throughout his three decades of custom knifemaking, Chuck Stapel has been one to experiment with new designs and materials. He makes blades of 0-1, D2 and 440C, but has become one of the first to recognize the properties of AEB-L stainless steel. He likes working with the steel and finds that it holds an edge well.

Lately, he has found a market for individual knife, fork and spoon sets, as well as for another kind of eating set consisting of a 3-inch stainless steel tanto blade with a bone handle. Custom chopsticks are included with a choice of a custom sheath or a box for the set.

Another new direction for the maker is the use of Damascus steel. Stapel has been using forged Damascus from fellow Californian Jim Ferguson. The knife features a striking 3 1/2-inch blade with a 3 3/4-inch fossil walrus ivory handle, Micarta spacer and a leather thong loop. A leather sheath is optional.
| | |
| --- | --- |
| This is not a movie knife. Stapel is using twisted nickel Damascus blades from Jim Ferguson with a 3 1/4-inch blade. The knife is 7 1/4 inches long overall with a fossil walrus ivory handle, a Micarta spacer and a leather thong loop at the butt. ` | |
Stapel is one of the fastest custom knifemakers around when it comes to one of his standard designs. A small skinner with a Micarta handle can be turned out in a couple of hours. He starts with a piece of heat-treated steel, then shapes, grinds, drills, clamps, cements and sharpens the small knife while you watch. The slowest step is waiting for the two-part epoxy to harden. If the knife is a simple "economy" model, he will use a shrink-wrap handle cover over the full tang knife and shave off half the time. The current design features a 3 3/4-inch blade of high carbon steel with black shrink wrap on the handle for an 8-inch knife overall. A custom leather sheath is optional.

Chuck Stapel retired from his regular job with several Los Angeles school districts a couple of years ago and concentrates on knifemaking and competitive shotgun shooting. Plus, the knifemaking has also led to several movie bit parts for Stapel, mostly in Westerns and other costume period stories. He states that his appearances have been almost too brief for even him to spot when the movie or TV show airs. `
The Los Angeles resident now spends a considerable amount of time attending and supporting various celebrity fundraising shooting events around the country. He regularly travels to celebrity shoots from Florida to Hawaii, about 14 such events a year. He competes as a shooter in many of the events, often taking the top shooting honors in his category. He also donates his knives as awards or as prizes to be auctioned to raise funds. At one event, one of Stapel's knives brought $12,000 for a charity.
Stapel remembers, "I have met and shot with many celebrities such as Robert Stack, Tom Selleck, Chuck Norris, the Mandrell Sisters and many other artists, especially country singers, musicians, artists and actors. We have raised money for such groups as Children's Diabetes, `Wish Upon A Star,' the Paralyzed Veterans of America and other groups.
"I feel fortunate to have helped the less fortunate and to be able to participate in these shooting events as well. It is a win-win situation. I can help others while doing what I enjoy doing-making knives and shooting."

Stapel's latest Eating Set is his "Buffalo Bonsai " featuring a 3 3/4 inch High carbon blade with a satin finish. The knife also has a half-hard Brass Guard and spacer. The Handle is made of Asian cherry wood with inclusions, left in natural beauty with fossilized walrus tusk end butt.

The Chopsticks are comprised of hand-made Lacquered Wood.

Please Click Here for Ordering Information
Chuck Stapel is not, of course, the only maker to produce knives or swords for the entertainment industry. There are many others. As long as Westerns, adventure stories, pirate movies, science fiction and gangster films are made, somebody must satisfy the actors, writers, producers and prop masters. Look closely-astute viewers may see a familiar knife.
*****