In celebration of 30 years of knife making, Chuck Stapel is offering a series of limited edition sets of five knives.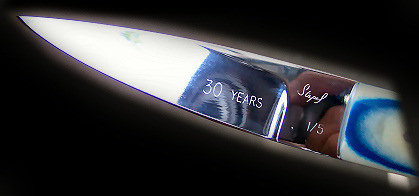 The first in the series is called "The Prow". Each knife has the "Stapel" signature engraved on the hilt, along with the series number, and the words "30 Years" engraved on the blade.


OVERALL LENGTH OF EACH KNIFE: 8"

BLADE: 4 1/4" Boot style AEB-L Swedish Stainless Steel with extra-special mirror finish.
HANDLE: 3 3/4" Hand-layered ivory and coral blue Micarta. Custom aluminum bolting.
If you would like to reserve the same number knife from each 30 Year Celebration Series, e-mail me.