Chuck Stapel began making knives at the age of ten, when he discovered that he didn't like the handle of a paring knife he got as a birthday present, and decided to make his own! He already had some training from his father, who had dabbled in knife making most of his life as well. His father's interest began in the Navy during World War II, when, while stationed on a LCS in the Pacific, he began taking old hacksaws and files, and making them into works of art. He later presented some of his works to his son, which helped inspire Chuck to shape creations of his own.
Taking the craft of knife making seriously after high school, Chuck continued to hone his skill, and after building his own workshop, spent every available moment working on new designs and techniques. Living his whole life in Los Angeles, California, only a short walk to most of the Hollywood Studios, Chuck's knives soon found themselves not only in movies and television shows, but in the private collections of many of Hollywood's biggest stars.
After becoming a champion trap, skeet and sporting clay shooter, Chuck began to be invited to many celebrity charity events, wherein he was asked to make "Trophy Knives" for the top prizes and for charity auctions. He was embraced by the world of Country/Western music stars as well, who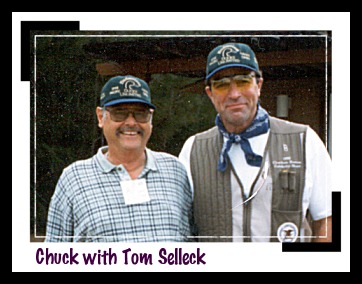 also became great fans of his work.
Chuck's knives have appeared in dozens of movies such as "Quigley Down Under", "Switchback", "No Mercy", and "Little Nikita"; in hundreds of commercials; and in countless television shows such as "Wildside", "Magnificent Seven", "Thunder In Paradise", "Walker: Texas Ranger", "Knightrider", "Jason and the Argonauts", and "Magnum P.I."
His knives are prized as works of art, and collector's items, and are displayed at many museums, such as the Roy Rogers Museum, and Gene Autry Western Museum, and in the private collection's all over the world, including such celebrities as Robert Stack, Tom Selleck, Roy "Dusty" Rogers, Jr., Chuck Norris, the Mandrell Sisters, Kenny Rogers, Dolly Parton, and John Milius.

Chuck had made to order and donated knives to over two hundred charities, including Paralyzed Veterans, Quails Unlimited, Ducks Unlimited, Wild Turkey Federation, California Waterfowl, Irlene Mandrel's Wish Upon A Star Charity shoot, the Boy Scouts of America, St. Jude Hospital, the Hollywood Celebrity Shoot, the Charlton Heston Celebrity Shoot, Ben Johnson's Celebrity Rodeo for "Little Britches", Pike's Peak Charity Rodeo, Roy Roger's "Happy Trails" charity, the Holy Cross Children's Hospital and Free Clinic, to name just a few.
As an investment, Chuck's knives are traded, sold and exchanged all over the world. In fact Chuck holds the record for one of the highest prices paid for a custom knife when one of his specialty knives was sold for over $12,000 at the Irlene Mandrel Celebrity Wish Upon A Star Shoot, held at the Rio Hotel and Casino in Las Vegas in 1999.
With the introduction of his exclusive website, Chuck can now offer his "One of a Kind" knives to enthusiasts and collectors all over the word with a click of a mouse button. He will also be offering a special "knife of the month", limited edition numbered knifes, collectibles and corporate gift items. He especially enjoys the chance to be able to impart his own personal story and history behind each of his knives for everyone to read!
Chuck divides his time these days between his knife studio in Los Angeles, and another in Hawaii. He spends a lot of time traveling to dozens of charity events where he both competes in shooting sports and creates special knives.
He is the father of two children and six grandchildren. His son is also a knife maker, and Chuck is especially proud of his grandson who has just completed his first knife… with just a little bit of help from his Grandpa!