What makes a Stapel knife even more valuable these days is that after over thirty years creating special custom knives for the Entertainment Industry and connoisseurs of special crafted knives, Chuck Stapel has slowed down. He is semi-retired, and is not making an more custom requested knives, and only will be selling some one-of-a-kind knives from his own collection, or the few he decides to make in his workshop.
So this was a very special event indeed when he came back to his "spinning wheel" to craft a knife for Harrison Ford for his starring role as Jake Lonergan in the Sci-Fi western, "Cowboys and Aliens". Brought back by the creator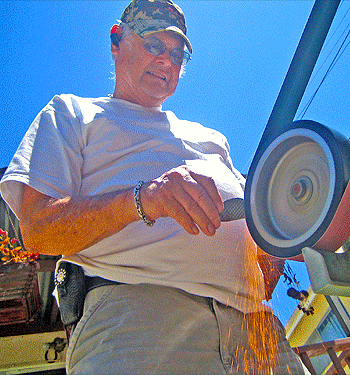 s of the movie, plus his own personal admiration for Harrison, Chuck created a very special knife, that Harrison uses throughout the movie.
The filmmakers wanted a knife that felt like something that would actually be crafted in the period of the story. A knife that Harrison's character may have actually made himself, as many cowboy's did. A "utility" knife that he could use to defend himself, save others, and at moments of peace peel an apple (which he does several times in the movie). Yet, of course be something larger-than-life, as only anything related to the legendary Harrison Ford should be!
Chuck crafted this wonderful "California Bowie" style blade with a three pin handle made of Naturally Harvested Elk Summer Fall Horn. The blade is hard and razor sharp 44C Steel with an extra high hilt to keep crafty hands on the handle and not the blade during action packed moments of use.
After filming, Chuck was asked by many members of the cast and crew to craft a reproduction of the knife for them. He declined, but after much pressure, finally was persuaded to offer to the public an extremely limited series of the knife. It's the most select number of Limited Editions he's ever made in his career: only five of these knives will be crafted, plus for sale, is also the "P" knife, which was the "prototype" knife made before he crafted the one for the Motion Picture.
Each knife will also come with a custom fitted leather sheath, made by Chrisom Trail, which crafted the original sheath for Harrison Ford's knife. Chuck will also make a special display stand for your knife, custom balanced, and with a brass plaque, etched with your name, the number and name of the knife. Of course you will also receive a specially signed and numbered Certificate of Authenticity.
Chuck calls these special knives "Cortar la Manzana", which loosely translated, pays homage to the famous scenes of Harrison Ford using the knife to peel an apple. Each knife will be hand made to order, the steel is specially selected by Chuck, heat-treated under Chuck's supervision, then hand formed to a stunning polish. Each handle will be made from the same Elk Horn Fall used in the original, and the pins and hilt hand fitted and balanced for each blade.
Because of the extreme amount of work needed to craft this knife, the orders will begin to be made in January, 2012, and take approximately four months to complete. Therefore you can reserve your knife, and special number with a 10% Deposit. The balance is due only after your knife and sheath have been crafted and are ready for shipping. At that point you can pay the balance, and have your knife shipped, or you can enter into a Flex Pay payment plan, paying the balance in four monthly installments. Once the balance is paid, the knife will be shipped to you. There is no fee or interest for this service.
Chuck may never again be offering any Limited Editions, so these knives are sure to be reserved quickly. So take a look at the "reserve box" to the left, and choose your number, then put down your deposit. You can enter your choice of Limited Edition number in the "Special Instructions" section of the shopping cart.

WANT TO ORDER A LIMITED EDITION TO BE CUSTOM MADE FOR YOU?
E-MAIL US FOR INFORMATION!