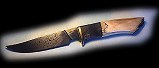 "I'll be honest with you. I have no idea where I found this amazing piece of fossilized walrus tusk. All I know is that I loved it the moment I set eyes on it, and have treasured it for what seems to be forever. Every few months I'd go back to it, and try to see how to form it, and what kind of handle to put with it.
One day I was working on a new kind of spacer… with stabilized buckeye wood. Usually I use it only as a thin strip, but then I realized that making a larger spacer allowed me to make a very special handle utilizing every bit of this fossilized walrus tusk. There's something about it I really can't explain. It has a… oh, I don't know… a history to it… a drama.
Its lines and curves and subtle colors… have a kind of power that makes you realize that it holds a whole lot of stories in its' hard white ivory! This is a wonderful display knife and a, what I call, "tossing knife"… you know, you keep sort of tossing it back and forth between your hands and fingers, as only guys know how to do. The feel of that natural tusk against your palm is just plain primal!