Special Limited Edition PVA Fundraising Price:

$98.00

That's for the knife & custom fitted Sheath!

El Esqueleto!
Famous Stapel designed
Skeleton Knife and Custom Sheath Set

..


One of the most sought after of Stapel knives is Chuck's "El Esqueleto" Knife and Sheath Set. Amazingly balanced, functional for a million chores, and just great art and craftsmanship, the "El Esqueleto" skeleton knife has never been offered for sale before, and has always been given to special friends, and as prizes and auctions at some of Chuck's very selective celebrity charity events.
Now, for the first time ever, and only as a

limited edition, Chuck is offering one of his most popular knife designs for sale! And since a portion of each sale is going to one of Chuck's favorite charities, the "Paralyzed Veterans of America"… which, what with all the budget cuts to our brave vets, needs all our help now, more than ever. So Chuck has made this knife and custom sheath set available at an unbelievably affordable price. This way, everyone benefits!

BLADE: 6 1/4"
Stapel designed Skeleton Style hollow-ground blade with custom mixed Swedish steel AEB-L (specially treated 440 but with more carbon mixed in to create a much sharper edge, and extra strength… this sucker will last a lifetime!) Satin finish.

SHEATH
Custom Stapel designed "Pancake Style" sheath hand-tooled to order by Master Sheathmaker Bendera, from 100% select cowhide leather with unusual "el negro grabó al agua fuerte", edging, special belt loops, and detailing. Purposely designed to fit close to body, or in pocket, boot, or "fanny pack".

Both knife and sheath come with "Stapel" logo etched in the blade, and also hand-stamped into the leather of sheath!
---
UNIQUE AND MEMORABLE PROMOTIONAL ITEM!
THE PERFECT HOLIDAY GIFT FOR EMPLOYEE'S AND CUSTOMERS ALIKE!
USE FOR INCENTIVES – PRIZES – ADVERTISING!!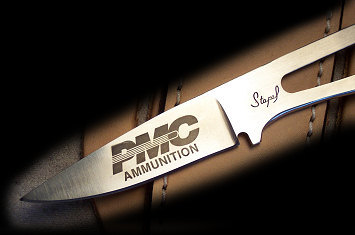 Why not have Stapel's "El Esqueleto!" Knife and Sheath Set created for your company or organization with YOUR VERY OWN LOGO etched into each blade? E-mail us with your needs, and we'll give you a price quote. And once again, a portion of your order goes to the PVA!

(Pictured right: Stapel's "El Esqueleto" Knife and Sheath set with the PMC logo etched into the blade. PMC is the official ammo that Chuck uses for his celebrity trap & sporting clay shoots!)


PMC - CREATING A LEGEND ONE SHOOTER AT A TIME!
---